Alejandro Sosa: The most stylish movie villain of all time
Bond who? The villains have the best style.
Have you ever noticed that movie villains almost always have a rather unique and eclectic sense of style? Their mode of dress is central to the development of their villain persona, helping to cast them as decidedly different than other characters in films. You can often identify the villain before they've uttered word if they're wearing a mischievous turtleneck under a sharply cut suit. They're just different and, often, there is an association made between the quality of their clothing and the ill-gotten gains they've amassed. These are rich criminals, of course, they'll have both an eye and a wallet for some of the nicer pieces.
| | |
| --- | --- |
| | |
James Bond is revered for the character's sartorial grandeur, but, if we're being honest, the many iterations of Bond are often outclassed by the criminal masterminds he's tracking. Raoul Silva — played by Javier Bardem in Skyfall — typifies the villainous aesthetic: Bleached hair, a cream-coloured suit, and a silky, boisterous shirt. Elliot Carver, the villain from Tomorrow Never Dies, is almost a spitting image of Steve Jobs, and while GQ ranks him among the 10 worst-dressed Bond villains, his black turtleneck and buttoned up work jacket were definitely more stylish than Pierce Brosnan's dishevelled look.

Bond's criminal masterminds aren't the only ones to use their wardrobes to cast themselves as villains. The Joker famously has his purple trenchcoat, which may not be something most would want to have in their wardrobe but it's hard to deny that he deftly pulls it off. Patrick Bateman channels the very best of corporate America's threads in American Psycho, prancing around in suspenders, pin-striped shirts, and silk neckties. Even the messed-up gang of psychopaths in A Clockwork Orange managed to create a look, with their bowler hats and all-white get-ups.
| | |
| --- | --- |
| | |
So, yes, villains have a peculiar way of dressing and while there are dozens of examples of murderous, tyrannical, and Machiavellian characters flexing on screen, there is one well-dressed villain to rule them all and he appears in Scarface. Now, Tony Montana may be one of the most well-known and well-loved anti-heroes in film and he definitely has some praise-worthy sartorial moments, but he isn't even the best-dressed member of his own criminal cabal.
That title goes to Alejandro Sosa, Tony Montana's Bolivian cocaine supplier — the fictional character's Wikipedia page lists "Drug lord" as the occupation — who later ends up ordering a hit on Montana. While Sosa doesn't appear frequently throughout the film, his wardrobe choices certainly leave a memorable impression.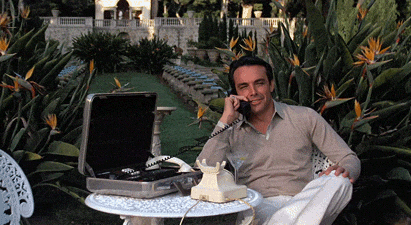 Sosa was a pioneer in terms of casual luxury. When we first meet him, he's wearing a cream-coloured Harrington jacket and a crisp white button down, unbuttoned more than most would probably feel comfortable with, cream pants and a beige belt. Even when he gets chilly, he just casually layers a timeless M-65 over his creamy fit. Sosa oozes comfort and he comes off as effortlessly elegant. Yes, he's probably a fairly stressed individual, what with running an international drug smuggling business, but he doesn't seem worried in the slightest. The guy gets it.
But Sosa isn't a one-fit-wonder, which is something that really entrenches him at the top of the bad guy, good taste hierarchy. That being said, he did have a weird penchant for cream-coloured garments — I say weird, but don't we all wish we had the lifestyle that allowed us to wear a cream blazer? The peak lapel double breasted cream suit jacket, with the olive button-down shirt and matching olive pocket square, is emblematic of the character's style: Just brash enough to be noticeable, but still aspirational. It looks good on him and Sosa looks decidedly more comfortable with his wealth than Tony Montana does.
Of course, we'd be remiss to not bring up the scene where Sosa is on the phone with Montana — the phone is in a briefcase! — surrounded by Birds of Paradise plants in full bloom, wearing a beige cashmere sweater over a cream button-down, while wearing white pants. The guy seriously can't lose when it comes to striking the delicate balance between luxury and casualness.
Even when he is roused in the middle of the night because one of his men has been shot in the head by Montana, Sosa calls him up, casually wearing a double-breasted red robe de chambre — there's no way we're calling it a bathrobe — and a satin pyjama top.
In many respects, the Sosa character laid the framework for relaxed but chic menswear. Pitbull once said that growing up, he wanted to be Alejandro Sosa because the character is so noticeably well-dressed. Again, the juxtaposition is important — yes, Sosa is well-dressed, but he looks well-put together and classy when compared to the brash Montana. His style comes across as effortless and that is the most important thing of all.
| | |
| --- | --- |
| | |
Like with many of the other movie villains whose clothes are used to build the character, Sosa's offers hints that he won't hesitate to cut ties with Montana should the time come. His choices are relaxed, yes, but the roots of the double-breasted blazer are in the business world and the white dress shirt worn under the casual Harrington jacket should signal to Montana that Sosa means business, even when he seems friendly. Even the satin pyjama top was collared and harkened back to a dress shirt. Yes, he looked like a worry-less drug lord, but he was business-savvy and ruthless when the time came.
And that is why Sosa is the most stylish movie villain of all time. Not just because he dressed well, but because it meant something and it helped build his character. He was successful and his clothes certainly gave viewers that impression; he was more level-headed than Tony Montana and, again, his mix of casual wear and tailoring conveyed that message.
Marc Richardson is a writer based in Montreal. He has written for Grailed, Vice, and others. Check out more articles by Marc (How Kanye West surpassed Michael Jordan & How hiking has scaled the fashion pyramid.) He is also on Twitter.